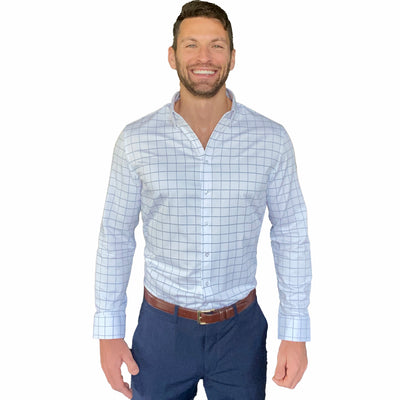 goTIELESS Ultimate Dress Shirt (White/Navy Windowpane)
Size Guide
$69.99
In today's professional world, business casual is the norm with nearly 90% of men opting out of wearing ties.
While this shift to a more relaxed dress code is a welcome change, other dress shirt brands will leave you looking sloppy & disheveled. Why? Because they simply weren't designed for this modern workforce. goTIELESS is.
The Ultimate Dress Shirt sets a new standard for versatility, comfort, and style with Million Dollar Collar built-in, lightweight & wrinkle-resistant bamboo stretch fabric, convertible cuff, and a wide size range catering to all body types.
It's a first-of-its-kind shirt that can be dressed up or down to suit any occasion while ALWAYS maintaining a professional look.
Color: White/Navy Windowpane 
Fabric: Wrinkle Resistant + Stretch Bamboo

The goTIELESS® Difference:
1.  Million Dollar Collar® placket support 
2.  Lightweight & Wrinkle-Resistant Bamboo Stretch Fabric
3.  Convertible Cuff (so you can wear cufflinks, or not)
4.  Wide size range (XS - 3XL) *Size Chart in images.
5.  Slim & Standard cuts for all body types
6.  Looks great tucked or untucked