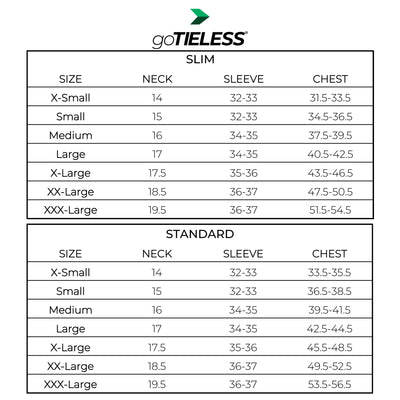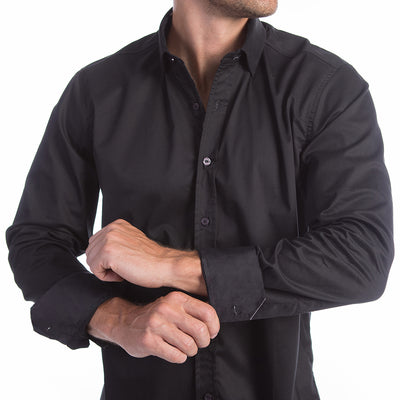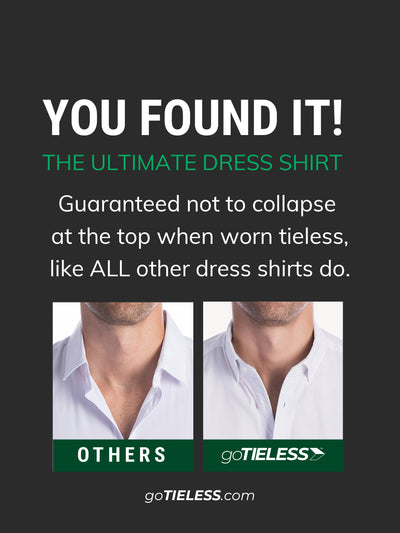 goTIELESS Ultimate Dress Shirt (Black)
Size Guide
$69.99
In today's professional world, business casual is the norm with nearly 90% of men opting out of wearing ties.
While this shift to a more relaxed dress code is a welcome change, other dress shirt brands will leave you looking sloppy & disheveled. Why? Because they simply weren't designed for this modern workforce. goTIELESS is.
The Ultimate Dress Shirt sets a new standard for versatility, comfort, and style with Million Dollar Collar built-in, lightweight & wrinkle-resistant bamboo stretch fabric, convertible cuff, and a wide size range catering to all body types.
It's a first of its kind shirt that can be dressed up or down to suit any occasion while ALWAYS maintaining a professional look.

Color: Black 
Fabric: Wrinkle Resistant + Stretch Bamboo

The goTIELESS® Difference:
1.  Million Dollar Collar® placket support 
2.  Lightweight & Wrinkle-Resistant Bamboo Stretch Fabric
3.  Convertible Cuff (so you can wear cufflinks, or not)
4.  Wide size range (XS - 3XL) *Size Chart in images.
5.  Slim & Standard cuts for all body types
6.  Looks great tucked or untucked 
goTIELESS Ultimate Dress Shirt (Light Blue)
This shirt has nice features about it. In addition to the collar shaping, the material for the shirt also makes this shirt look good, and everything about this shirt feels and looks like it was made with attention to quality. The sizing online came and seems like the right fit. I'm usually a medium or medium slim and this shirt is the right fit. Im pleased with the purchase, as their offerings of shirts
Don't choke on it
Don't let the price keep you from trying these awesome shirts out! With free returns you've got nothing to lose but I promise you'll never want a different shirt! Side note: the more you buy the more you save.
Rob in customer service reached out to me after I placed my order to make sure of exactly what I was looking for. I'm sure he'll do the same for you. Great product and customer service!